High Speed Mixing Processes
Emulsificacion
Nuestros Mezcladors de Rotor/Estator Solos y Graduales convencionales desempeñan papeles importantes en el proceso de emulsificación. Ellos son capaces de producir emulsiones simples o emulsiones sub-micron complejos.
Los mezcladores de rotor y estator estan compuesto de un rotor que da vuelta con alta velocidad dentro de un estator inmóvil. La etapa sola, la etapa dual, cuatro etapa y las filas complejas que interendientan de dientes concéntricos están todos disponibles. Los diseños básicos funcionan en la velocidad de aprox. 4000 fpm, mientras que los modelos de alta extrema intensidad alta extrema funcionan en velocidades a más de 18,000 fpm.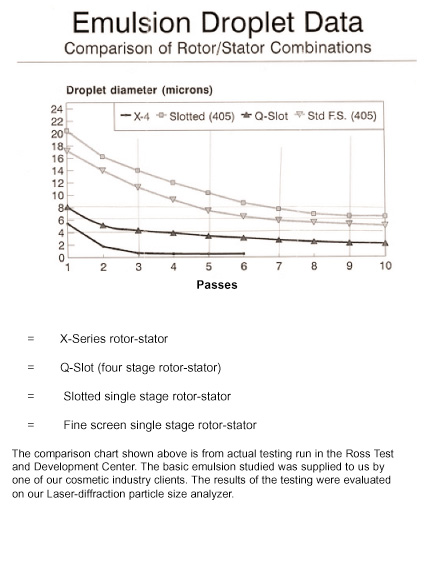 View the Emulsification Droplet Data report we have included (displayed above) to learn more about the capabilities of the various designs that are available. The MegaShear is not shown, however it's capabilities are beyond those of the X-Series model which is included in the graph.
Designs are available for bench-top and production operations. They range from 1/2 hp to over 250 hp and are supplied in batch and inline configurations.